11.12.2012 г.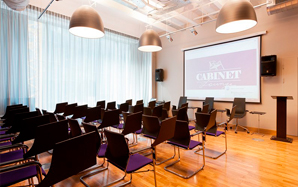 MTA Teams Up With Andrei Chuzhakin, One of Russia's Top Interpreters, to Hold Seminar on Interpretation and Interpreters' Shorthand
On December 11, 2012, Moscow Translation Agency teamed up with Andrei Chuzhakin, one of Russia's top interpreters, to hold a seminar on interpretation and interpreters' shorthand.
Andrei, who is an Associate Professor of Translation at the Moscow State Linguistic University and a world-renowned expert in the practice and didactics of conference translation, has been a friend of MTA for many years, so we were able to organize a seminar to teach general provisions on interpretation (peculiarities, types and difficulties), interpreters' shorthand, the practice, development, refinement and deepening of shorthand techniques, applying European conference translation standards in practice and training people in the various kinds of interpreting.
The seminar was attended by heads of interpreting departments and leading interpreters from Ernst&Young LLC (Moscow), Hogan Lovells, Sakhalin Energy Investment Company Ltd., Novatek, Transneft, Vyksa Steel Works and other companies.
Some feedback from participants:
«Thank you for your very well organized workshop and interesting speakers!»
«Thanks again for the well-organized seminar. To be honest, I'd seen various training sessions before, but never at this high level. Well done!»
«Allow me to thank you for organizing an interesting and useful workshop.»
«Colleagues, the seminar was extremely informative and added to the already formidable toolbox. Thank you very much!»
Photos of the event are available on our Facebook page.