15.11.2016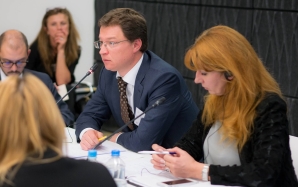 Moscow Translation Agency together with EY (Ernst and Young) and Confindustria Russia (Association of Italian Industrialists) held a Roundtable devoted to the participation of Italian companies in Russian infrastructure projects. The event was moderated by Kirill Kosolapov, MTA CEO and Olga Arkhangelskaya, EY Partner.

The executives of the Ministry of Economic Development of the Russian Federation, experts from JSC Russian Railways, the Russian Direct Investment Fund, the Federal State Institution "Roads of Russia", the Moscow Region Government, and DSK AVTOBAN shared their views regarding the problems and their solutions. The representatives of the largest Italian companies ― INTECS SOLUTIONS, Tesmec, Saipem, Codest International, Ital Engineering International, Cariboni group (part of Alstom Group), Tecnimont, Astaldi, and Eni participated in discussing one of the main topics proposed ― "Russia-Italy: Cooperation under New Economic and Geopolitical Conditions".

According to the participants, the first one in the planned series of Roundtables became a favorable platform for interaction of the two leading European economies.